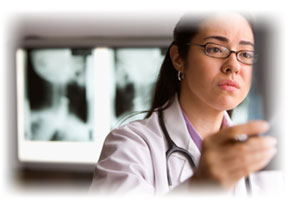 Research
Cartilage defects acquired through the wear and tear of everyday life ultimately contribute to osteoarthritis (OA)—the most common form of arthritis and a significant source of disability and impaired quality of life. With recent generations of active and athletic individuals, the number of people with OA is substantial, and often affects younger adults for whom joint replacement is not a desirable treatment option.
Rush University Medical Center's bone and joint program has a distinguished history of "bench-to-bedside" or translational research, wherein laboratory discoveries are brought directly to our patients, while clinical findings contribute to further research innovations. A strong collaboration between sports medicine physicians in our department of orthopedic surgery and basic scientists has facilitated major innovations in treating patients with cartilage defects thus far.
The Rush team's focus is now on developing ways of preventing further degradation and delaying the need for surgical intervention in patients with cartilage defects. Investing in the laboratory and clinic will help expand the current array of minimally invasive repair options.
The physicians featured in this Web site are on the faculty of Rush University Medical Center. They are also in private practice and, as independent practitioners, are not employees or agents of Rush University Medical Center.